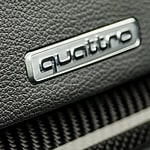 One look at the Audi RS 3 more than explains why this sedan is so popular. It's tight, compact, sporty and a touch sophisticated. Plus, it boasts impressive, smooth handling and fuel efficiency. Audi built the RS 3 to be a sedan, but its heart is all race car, with notable performance features to boot. Here are two that our Audi Memphis team selected for your info.
All-Wheel Drive, All of the Time
The RS 3 sedan's permanent drive system is a special all-wheel drive system called the quattro.
Read More