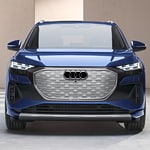 If you're searching for a highly capable, all-electric SUV in Memphis, the 2023 Audi Q4 e-tron delivers. Not only will this outstanding auto take you everywhere you need to go without raising your carbon footprint, but it will also give you access to some truly cutting-edge technologies. When you test drive the 2023 Audi Q4 e-tron at Audi Memphis, you can experience the following technology features firsthand.
Get Real-Time Vehicle Info With an Augmented Reality Head-up Display
The 2023 Audi Q4 e-tron is the very first model from this luxury brand to feature an augmented reality (AR) head-up display. Offered as an available feature, the AR head-up display provides critical vehicle information in real time.
Use Audi Connect to Remotely Establish Your Charging Plan
Audi Connect is a seamless blend of digital features and services for streamlining drivers' overall experiences. You can use this tech to set a charging plan for your Audi remotely, determine your wait times at stop lights, and map out your routes.