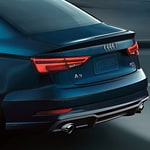 The Audi A3 Sedan is a top-of-the-line vehicle with all the features you would expect from an Audi. It has sleek styling, impressive handling and powerful performance. One of the main selling points for this car is that it offers so much more than other sedans in its class at a lower price point!

Performance Features of the Audi A3 Sedan

The engine is an efficient 1.8L with turbocharger technology that gives you 200 horsepower and 207 lb-ft of torque while still maintaining impressive fuel economy. The 3,100 lbs vehicle has a 0-60 mph time of 6.7 seconds and can reach speeds up to 129 mph.

There are several options that can be added to the Audi A3 Sedan, two of which include a panoramic sunroof and static V-Tron® technology. The panoramic sunroof offers an impressive view of the sky while also providing ventilation in all weather conditions through controls located on the door panel.