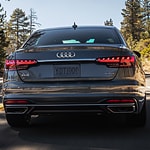 The 2022 Audi A4 sedan offers a great selection of exterior options that work well with the stylish and sleek design for this Audi! Stop by Audi Memphis to talk to our team about all of the exterior features for the 2022 Audi A4 sedan. Also, while you are in Memphis, don't forget to ask our team about the great selection of wheels and headlights for the Audi A4.
The wheels that come with the 2022 Audi A4 are in three different sizes. Choose from 17-inch standard wheels, or you can opt for 18-inch or 19-inch wheels depending on trim level.
The headlights for the 2022 Audi A4 sedan are standard LED lights, but there are also matrix-designed LED headlights that have animation. This lighting is not only well-designed but your Audi sedan will absolutely make a statement!