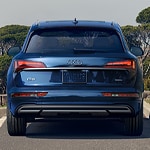 With two body styles and a gas powered or hybrid engine, Audi's Q5 offers plenty of versatility to please almost every driver.
The Q5's gas engine packs up to 362 horsepower and 369 pound feet of torque under its stylish exterior. With an acceleration rate of zero to 60 mph in just five seconds, there's plenty of power when you need to merge quickly into oncoming traffic or pick up speed while driving uphill. The dual clutch automatic transmission offers all-wheel drive precision for tight cornering or driving in slippery conditions.
Drivers can tow up to 4,400 pounds with the Q5 with a proper tow package, assuming they are not carrying a heavy load in the cargo area already. This rating allows for a small boat or trailer carrying personal watercraft or ATVs so you can enjoy the occasional weekend adventure.