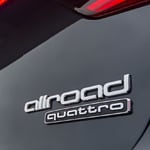 The 2020 Audi A4 Allroad is a practical and efficient vehicle for any condition. Highlighted below are the A4 Allroad design features.

Trim levels
The A4 Allroad model has Premium, Prestige, and Premium Plus trim levels. All of them have an engine capacity of 2.0-liter turbo inline-four gas. The models have a 7-speed automatic transmission with an all-wheel-drive drivetrain.

Panoramic sunroof
The unit has a panoramic sunroof and a blackout sunshade to provide a cool Breeze in the vehicle and a spacious feeling cabin.

Interior space
The Audi A4 Allroad model is a 5-seater. When travelling for long distances, every occupant is assured of comfort due to the 41-inch legroom and 37.4-inch headroom. For passengers at the back, they can stretch their legs on the 35.7-inch room space.

Cargo space
The spacious cabin has a tremendous cargo-carrying capacity of 24.2 cubic feet and can open up to 58.5 cubes. This makes the model good for family adventure and carrying long items.
Visit our showroom at Audi Memphis to physically view the model.