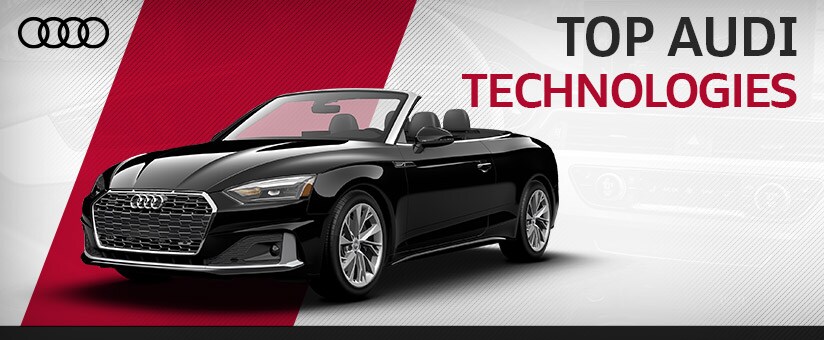 No matter which model you choose, the Audi brand represents cutting-edge performance, and advanced innovation. Here are some of the most exciting technologies you can experience behind the wheel of the Q5, the e-tron®, the A4, and other top models in the Audi lineup.
quattro® all-wheel drive
Most Audi models boast standard quattro® all-wheel drive, but don't expect just any old AWD system. With Audi's legendary quattro®, power goes to all four wheels at once, increasing or decreasing as needed to optimize traction. Equipped with this technology, you can drive more safely on wet roads, gaining extra grip to keep your vehicle stable and on course. You'll be able to handle your Audi more confidently when it's dry, too, especially while cornering.
Audi ultra®
In many Audi vehicles, quattro® all-wheel drive is enhanced by ultra® technology. This setup makes a vehicle more efficient by instantaneously switching from FWD to AWD and back again as necessary. The electronic ultra® controller continuously senses road conditions to predict when AWD will be needed, allowing for an ideal balance of fuel economy and capability.
Audi TFSI®
Your Audi vehicle will most likely be powered by a powerful, efficient, and innovative TFSI® engine. TFSI® stands for Turbocharged Fuel Stratified Injection, which joins turbocharging and direct injection in one great package. This combination gives your engine more power and responsiveness while reducing emissions and improving fuel economy at the same time.
Adaptive cruise assist
When you're commuting in heavy Memphis traffic, the constant stop-and-go flow can add a lot of stress to your time behind the wheel. That's where adaptive cruise assist comes in. This Audi technology maintains a pre-set following distance between you and the vehicle ahead of you, automatically accelerating and braking as necessary to control distancing. Often, this system also includes a lane guidance function that nudges the steering wheel to help you remain centered in your lane. Equipped with adaptive cruise assist, you can look forward to a smoother, more enjoyable daily driving experience!
MMI® touch response
Inside your Audi vehicle, the infotainment screen is powered by MMI® touch response. This tech operates a lot like a smartphone, letting you tap, swipe, scroll, zoom in and out, write with your finger, use voice control, and customize icons in the order you want them. With all of these intuitive access points and controls, it's so easy to stay connected, informed, and entertained in your Audi.
Audi connect® services
With Audi connect®, you'll have all the digital services you need for life on the go. The connect CARE® package gives you remote locking/unlocking, online roadside assistance, and SOS call. Upgrade to connect PRIME® with Basic Wi-Fi™ to receive unlimited data, satellite mapping, traffic and parking information, Amazon Alexa, and so much more. You can also opt for connect PLUS® with Full-Speed Wi-Fi to gain even faster internet access in your Audi car or SUV.
Bang & Olufsen® sound
With the help of Bang & Olufsen®, Audi vehicles have sound down to a science. Three B&O® audio setups are available, and each one is designed to make you feel like you're in the front row at a concert listening to your favorite musicians. The most cutting-edge of these is the Bang & Olufsen 3D Advanced Sound System. As part of this, you'll receive 5.1 Surround Sound, up to 23 speakers, up to 1,920 watts of power, and Advanced Vehicle Noise Compensation to preserve sound clarity.
There's one surefire way to experience all these thrilling technologies in action: taking your favorite Audi model out for a test drive. Get in touch with our team here at Gossett Audi Memphis and we'll set you up with an appointment!
Make an Inquiry
* Indicates a required field
Hours
Monday

9:00 am - 7:00 pm

Tuesday

9:00 am - 7:00 pm

Wednesday

9:00 am - 7:00 pm

Thursday

9:00 am - 7:00 pm

Friday

9:00 am - 7:00 pm

Saturday

9:00 am - 7:00 pm

Sunday

Closed