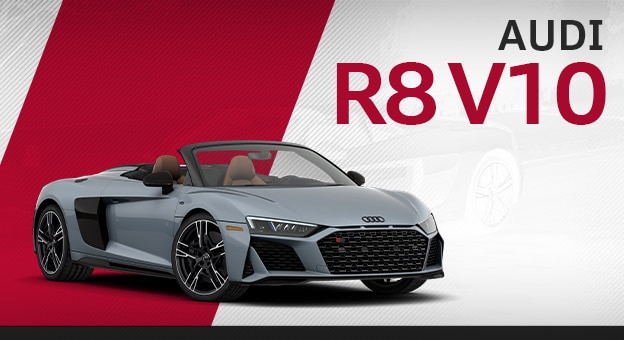 Audi is a brand renowned for the power and thrilling driving experience it offers to drivers. As such, the brand is constantly looking for ways to race past previous power thresholds. The fruit of its labors is the Audi R8 V10 engine. This powertrain, thanks to its advanced components, offers and unprecedented Audi engine performance, both on the road and on the track.
Predecessors to the Audi R8 V10 Engine
To understand why the Audi R8 V10 engine is so impressive, we must explore its past. This V10 engine was preceded by a 4.2-liter V8. Its precursor managed to produce 420 horsepower. When the 5.2-liter FSI® V10 engine entered production more than a decade ago in 2009, it increased the power output to 525 horsepower.
Audi Engine Technology
Today's Audi R8 V10 engine utilizes a special arrangement of pistons and other components to squeeze the most power possible out. Thanks to its smaller, lighter pistons, the Audi R8 V10 engine rev more freely. This piston configuration, when paired with an assortment of other pieces of Audi engine technology, allow the street legal version of the R8 V10 to produce up to 602 horsepower and 413 lb-ft of torque. This makes it one of the most powerful street legal engines in the world.
Audi R8 V10 in the Racing World
Of course, not all of the versions of the Audi R8 V10 are street legal, strictly speaking. Indeed, Audi has utilized the engine for its motorsports division. Audi racecars utilizing this engine have gone on the finish first and various competitions throughout the last decade. Additionally, the Audi R8 V10 lasts longer than most motorsports engines, with servicing only needed after every 10,000 km, or 6,213 miles. With this engine longevity at its disposal, a racecar equipped with the Audi R8 V10 engine could run the 24 Hours of Daytona four and a half times before it required a rebuild.
You can witness just how powerful the Audi R8 V10 engine is when you take an R8 model out for a test drive here at Gossett Audi.
Make an Inquiry
Hours
Monday

9:00 am - 7:00 pm

Tuesday

9:00 am - 7:00 pm

Wednesday

9:00 am - 7:00 pm

Thursday

9:00 am - 7:00 pm

Friday

9:00 am - 7:00 pm

Saturday

9:00 am - 7:00 pm

Sunday

Closed