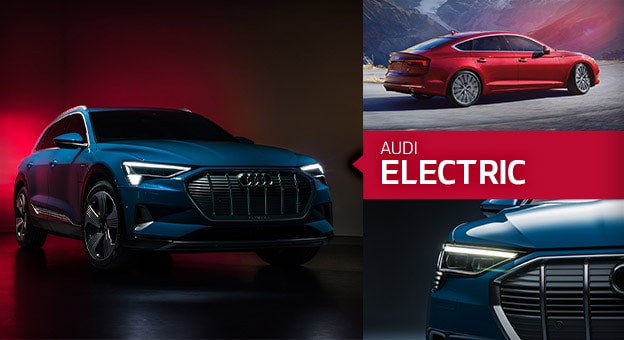 Audi has already demonstrated what the future of electric vehicles will look like with the introduction of the all-new Audi e-tron SUV, and the automaker's plans for electric car development certainly don't stop there. Audi has now announced plans to develop a new Premium Platform Electric architecture that will pave the way for a number of new electric vehicles bearing the four rings, including an A5-sized electric sedan.
Premium Platform Electric
The Premium Platform Electric foundation that will allow for further electric Audi development will be a rear-wheel drive base with a single electric motor at the rear axle with the option of a second motor at the front axle to accommodate Audi Quattro® all-wheel drive technology. 
One of the most exciting things about the new platform is that it will be flexible enough to be used for large sedans as well as SUVs and will fit a number of battery sizes up to about 300 miles in range at the largest end.
A5-Size Electric Sedan
The first car slated to be built atop the new Premium Platform Electric base is a sporty A5-sized luxury 4-door coupe. Stylistically, we expect this new electric car to mimic the bold styling of the A7 Sportback and to build on the tech already available on the Audi e-tron SUV. While we still have plenty of details to wait for, the new electric car might be available by 2025.
e-tron SUV
For those who can't wait to get behind the wheel of an electric Audi, the all-new Audi e-tron SUV rockets electric driving into a whole new era. Featuring striking yet clean styling and some seriously impressive technology, the e-tron makes 402 horsepower and accelerates from 0 to 60 in just 5.5 seconds. Add to this an electric range of nearly 200 miles and the ability to charge to a 54 mile range in just 10 minutes and the all-new Audi e-tron is electric driving like you've never experienced.
Audi proves that efficiency and electrification doesn't have to be boring. In fact, with Audi, the future of cars seems more exciting than ever. Check out the automaker's top-notch vehicles at Gossett Audi.
Hours
Monday

9:00 am - 7:00 pm

Tuesday

9:00 am - 7:00 pm

Wednesday

9:00 am - 7:00 pm

Thursday

9:00 am - 7:00 pm

Friday

9:00 am - 7:00 pm

Saturday

9:00 am - 7:00 pm
Make an Inquiry